Stay Up-To-Date with Fox Auction Company's Upcoming Auctions
CURRENT AUCTIONS
Oct
24
Sat
Rosel Real Estate, Outdoor, Antiques & Household Auction @ 2 blocks east of Casey's
Oct 24 2020 @ 10:30 am – Feb 6 2021 @ 1:30 pm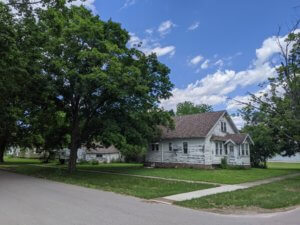 ******

Three Bedroom House & Contents Auction
303 East 3rd Street, St Ansgar, Iowa
Ron Rosel: Owner
Saturday, October 24th @ 10:30 am
Open House: Sunday, October 18th from 1-2 pm
Contents start @ 10:30 am
Real Estate sells @ 12:30 pm
NEWLY FOUND ITEMS!: These toys were found in the attic the day before the auction and are in near mint original condition! 1950's Tonka toys in near mint condition; Structo fire ladder tractor & trailer; Eska John Deere 620 mint; Mound tow truck mint; Structo dump truck; Tonka sand shovel with original tracks; tin litho aircraft carrier; vintage plastic model cars and boxes; vintage Boy Scout backpack, bandannas and books; Marx Steam Train electric train set; John Deere 40 crawler w/original tracks and more!
Campers & Outdoor: 2003 Starcraft Tourstar-S pickup camper w/pop up top, Coachman Cougar 285 fifth wheel camper (needs work); shotgun and rifle ammunition; a large amount of mechanics tools; rolling tool chest; wheelbarrow; yard cart; pull type leaf collection system w/gas blower; crossbow; Stihl chainsaw; shop vac; portable & pancake air compressors; aluminum hitch haul; aluminum folding ladder; various camping supplies in boxes; pickup toolboxes; 12 x 12 portable storage shed and more.
Antiques, Collectibles & Household: Crown treadle showing machine; world globe; square trunk; cowboy boots; LC Smith manual typewriter w/glass keys; belt buckles; window air conditioner; square and round galvanized washtubs and more!
Real Estate:  Selling at 12:30 pm
Don't miss this opportunity to name your price on this 1½ story, 3 bedroom "fixer-upper" home with a full bath on a double lot in St Ansgar! The home has wood floors, unique kitchen cabinets and is ready for the buyer to remodel it into their own home. There is a 16x20 garage and the lot is 120 x 132 or 1/3 of an acre.
Mark the open houses on your calendar and visit with your lender as there will be a $2,500 deposit due on auction day with the remainder due at closing in approximately 30-45 days. The assessed value is $47,660 and current taxes are $686 a year. Closing will be handled by McPhail Law Office of Osage. Please see the website below for full terms and conditions.
Preview Sunday, October 18th from 1-2 pm
Directions: From Casey's Gas Station in St Ansgar go 2 blocks east.
Auctioneers Note: Ron Rosel has moved to the nursing home and will sell his home and personal property to the highest bidder at public auction. There is a fair amount of garage tools and yard equipment that will be sold in the morning and the home will be sold at 12:30. If you are looking for a pickup camper or fifth wheel to fix up for hunting please check these out!
Announcements sale day take precedence over printed material
Terms: Cash, good check & credit card w/4% fee. All items sold "as is where is" Nothing removed until paid for. 
Personal Property Terms: Cash, good check or credit card. Credit cards add 4% convenience fee.
Real Estate Terms: This home is being sold "as is, where is".  It will require repair and updating but it is a prime candidate for a first time homebuyer with carpentry skills who can save a lot of money and fix this home up in their own style. A $2,500 deposit (non-refundable) will be due on auction day with the remainder due at closing in approximately 30-45 days. Buyers are welcome to use bank financing but please understand that this will be considered a cash sale, with no contingencies. The assessed value is $47,660 and current taxes are $686 a year. Buyers will sign a real estate purchase agreement at the time of purchase. Closing will be handled by McPhail Law Firm PLC of Osage. 
Click on photo links below and images will open in a new window
This feature works best when logged onto Google Chrome
Oct
26
Mon
Lavonne Gregory Online Estate Auction #1 @ Lions Community Center
Oct 26 @ 6:00 pm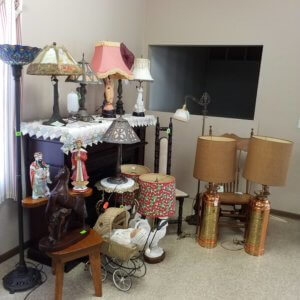 *****
Gregory Online Estate Auction #1
from the Lavonne Gregory Estate of Plymouth
Monday, October 26th
Nora Springs Community Center
16 South Summit, Nora Springs, Iowa
(South of Nora Springs Care Center)
Auction Preview: Sunday, October 25th from 12 pm – 2 pm
This will be the first of multiple auctions to disperse of Lavonne's lifetime collection of Antiques, Collectibles, Fine Jewelry, Oriental décor, Furniture and Amusing items!
It is impossible to describe in words the enormity of this great estate collection but here is a highlight of the genres included in the first auction:
Huge collection (200+) of stone, wooden, ceramic and other elephants in all sizes and styles, 14K gold Men's and Ladies' fine jewelry and rings; costume jewelry; pocket watches; an outstanding collection of unique Tiffany-style art and slag glass lamps; all kinds of glass! (Carnival, Fenton, Ruby cut to clear, Amberina, Orange, Cranberry, Moonstone, Hobnail, Crackle, Slag, and more!); figural cast iron cat & rooster door stops; beer clocks and signs; Arctic Cat toy snowmobile in box; 1/32nd scale Big Bud tractor; pottery; Reliance copper brass fire extinguisher lamps; strawberry themed kitchen décor; Oriental Foo Dogs; Laquer Ware smoking set w/inlaid mother of pearl; Mod and Mid Century vases & decor; jeweled headdress; Geisha Girls chocolate set; "V.E. Peshak Furniture and Undertaking, Manly Iowa" calendar from 1924; Egyptian brass bust; carved wooden ducks; a large collection of Oriental décor and furniture; cast iron banks and nutcrackers; Oriental rugs; Art Glass paperweights; Wells Fargo iron stagecoach strongbox; handiwork linens; cookie jars; trench art lamp; Rock Island RR lantern; oak buggy seat; Jacobean style hall prayer chair; oak queens side chair; floral & bird theme carved wooden chest; child's roll top desk w/swivel chair; a large collection of Oriental china and dinnerware and much more!
Auctioneers Note: This is the first of multiple auctions from the Lavonne Gregory Estate of Plymouth. Lavonne was well known for her unique custom home (the "Elephant House on Highway 9") (which she filled with her unique and amusing collections) and her notorious Halloween parties! Her extensive collection of antiques, collectibles, and furniture from her home will all be sold by online auction. The vintage automobiles, acreage equipment and tractors will be sold at a live auction on Saturday, October 31st at Fox Auction Yard in Mason City. Please allow extra time during preview and load-out dates as attendance numbers will be staggered to comply with public health directives.
Terms: See website for internet bidding terms, load out dates and a complete listing
Terms: Look under the Auction Details tab on the online catalog
Terms: Payment by credit card only. 15% buyers premium applied to each invoice. All items sold
"as is where is" Nothing removed until paid for. See website for internet bidding terms.
Terms: All bidding will be done online. Buyers are welcome and encouraged to attend one of the auction previews where they can thoroughly inspect all auction items. Payment by credit card only. 15% buyers premium will be applied to all invoices. Buyers are responsible to bring their own boxes, carts and labor to load purchases during the pick-up times stated in the online auction information. All items sold "as is where is" See online bidding catalog for complete payment, preview and pick up terms
**
How Do Online Only Auctions Work?
Review the items in the online auction, place your bids. A few things to remember when placing your bids:
 You can place your highest bid amount when entering your bid. The system will bid on your behalf. You won't need to watch your items throughout the auction – the system takes care of your bids for you! Please note that the system bids as if you were bidding – for example: If an item has a bid of $100 and you enter your maximum bid of $300 – the system will only go up to your next bid increment and bid $110 for you. If someone else enters a bid of $120 on that item the system will then bid again for you at $130, and so on up to your highest or maximum bid. It doesn't automatically bid your highest bid first thing.
 Our auctions have a Soft Close. What does Soft Close mean? Simply put, it means that the bidding ends when all bidders have quit participating. There is no last-minute steal or bid sniping - it's like a live auction, the auctioneer holds on until everyone has their bids in and no further bids are received. An item will not officially close until no bids have been put forth for 1 or 2 minutes, depending on the auction.
 Please note when the pick-up date and time are – we set that with very specific reasons in mind. Most of our online auctions are being held for people who may be moving and have a date that all items need to be removed from the house, etc. You must be able to attend the pick-up date between the times noted, be sure of those before you place bids.
 If you do not pick up your items during the advertised pick up date and times, we do not hold onto your item for you. You are automatically billed through our system and your item will be disposed of.
 For most of our online auctions, we will have an Open House/Preview. This is a time where you can attend the residence and touch and feel the items that you are interested in. If you are unsure of any item, please make sure to attend the Open House/Preview or contact the Auctioneers prior to the Open House/Preview to get further information on specific items. We are not at the location with the items throughout the day – so it's very difficult for the Auctioneers to get last-minute information.
 For online auctions payment will be made by credit card only. Your card on file will be charged after the close of the auction. Remember that there is a 15% buyers premium.
 If you have any questions, we're here to help! Just contact us: Phone: Julie - 641-420-5721
Oct
31
Sat
Halloween Day Auction @ Fox Auction Yard
Oct 31 @ 9:30 am – 2:30 pm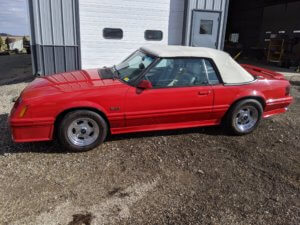 Halloween Day Auction
Live and Online Auction of Construction Equipment, Vintage Tractors, Vehicles, Mowers, ATV's, Trailers, Skid Loader Attachments and More!
SATURDAY, October 31st @ 9:30 AM
Held at Fox Auction Yard, 5000 11th Street S.E.
Mason City, Iowa
Online Bidding is now open!
Construction Equipment, Trucks, Trailers:
John Deere 444E wheel loader, two-yard bucket, 6,000 hours, auxiliary hydraulics

2015 Bobcat E64 mini excavator, new tracks, 2-speed travel, enclosed cab with A/C, 12" bucket, 1380 hours, LED stick lighting

Bobcat 642B gas skid loader w/1500 hours, 54" bucket

Case 1737 gas skid loader, bucket, forks, manure forks, runs great

2004 Chevy 2500HD truck w/Hiniker 8' C-plow; Hiniker gas pickup sander

2004 Ford F250 4x4 truck with snow plow & hydraulic liftgate

1992 Mack CH600 semi-tractor, day cab, Mack E7 350hp engine, Road Ranger 10 speed transmission, air suspension, wet kit, 17,000 hours, miles unknown, no outer drive wheels or 5th wheel plate

2004 Ford F350 2 wheel drive truck, extended cab, V8 engine, Hy-Rail kit, auxiliary hydraulic pump and hoses, contractor box, 181,000 miles

2017 Bobcat "Dozer 96", heavy-duty, 6-way dozer blade for skid loader, ductile iron moldboard frame, weighs 1500 pounds, low hours

20+ new skid loader grapples, mowers, forks and extensions

2015 Bobcat "84 Angle Broom" for skid loader, power angle, low hours

11' steel flatbed from Ford F550, gooseneck pocket, headache rack

Stanley gas-powered hydraulic power units

Trailer mounted power washer w/500 gallon tank and Hotsy power washer w/11hp Honda engine

1992 Chevy Suburban 4x4, 4 door, 180,000 miles.
Tractors, Vintage Automobiles, Mowers, Flywheel Engines
1978 Suzuki GS1000 motorcycle, 43,000 miles, original hard side saddlebags

Ford 600 tractor, WF, Sherman overdrive, tractor ride ready!

John Deere 4x2 gator

John Deere 445 riding mower w/cab and snowblower, 50 hours!

John Deere 455 diesel riding mower

Polaris Sportsman 500 4x4 ATV w/150 miles

Grasshopper 727K zero turn mower w/61" deck w/240 hours

David Brown 990 tractor, diesel, WF, runs good

Howard three-point rototiller

1950 Chevrolet 3100 half-ton truck, early restoration, flatbed

Ford Fox Body Mustang convertible w/45,000 miles, 5.0 engine, 5-speed manual transmission

80's Ford conversion van w/low miles

70's Cadillac Eldorado Biarritz w/32,000 miles.

Cushman 4hp type C gas engine on a homemade cart

IHC LA & LB gas engines

original Delco light plant

collection of 1 & 2 cylinder Maytag gas engines

early Briggs & Stratton kick start engines (FH, WM & WMB models)

Minneapolis Moline three-point blade

vintage Case lawn cart

Ford three-point post hole auger

Massey Ferguson 5' rotary cutter

vintage chain saws

vintage model airplanes

vintage tin construction toys

die-cast toy tractors, some are Precision Series and in the box

vintage boat motor

Pull type MC Lawn Genie w/16hp Briggs
Onan trailer type gen set, LP gas, 5KW single or 7.5KW three phase

Minneapolis Moline G450 Utility w/Westendorf quick tach loader, runs

Minneapolis Moline Jet Star Utility w/hydraulic loader, runs

Minneapolis Moline UB gas tractor, NF, deep rubber

Minneapolis Moline R gas tractor, NF

Twin Cities gas tractor, WF
Announcements sale day take precedence over printed material.
Terms: Cash, good check & credit card w/4% fee. All items sold "as is where is" Nothing removed until paid for. See the online bidding link for online terms.
CLICK ON LINKS BELOW AND PHOTO GALLERIES WILL OPEN UP IN A NEW WINDOW. Photos will be added periodically up until sale day!
The sale order and catalog will be complete on Friday, October 30th.
RECENT PAST AUCTIONS
We offer a full auction service including marketing, set-up, clerking and auctioneering at live auctions as well as on-line auctions if you wish. We have the capability and staff to hold an auction of one item or one thousand. If you are thinking of retiring from farming or selling land, give us a call.